The Personal Year 3 brings its own 祝福 和 挑战.
Since the Personal Year Cycle consists of nine years, you need the help of 数字学 in order to figure out your current Personal Year. Then, it's only a matter of reading up on what it means, educating yourself about the future and trusting your intuition, too.
This new chapter focuses on positive energies 和 creative outpourings.
"Minds are like flowers. They only open when the time is right."

– Stephen Richards
However, it's important to take the last Personal Year into consideration, as well. Allow yourself a moment of time to reflect on everything you have accomplished in the past year. Go so far as to take the entire Personal Year Cycle, the bigger picture, into consideration.
Knowing your Personal Year number helps you prepare for what's ahead.
If you're here, it means that you've taken the time to apply numerology to calculate your Personal Year. In the following article, we will examine what the Personal Year 3 has in store for you, from your love life, your career to your overall health and well-being.
Here's what the Personal Year 3 has to say about your future.
What the Future Holds in the Personal Year 3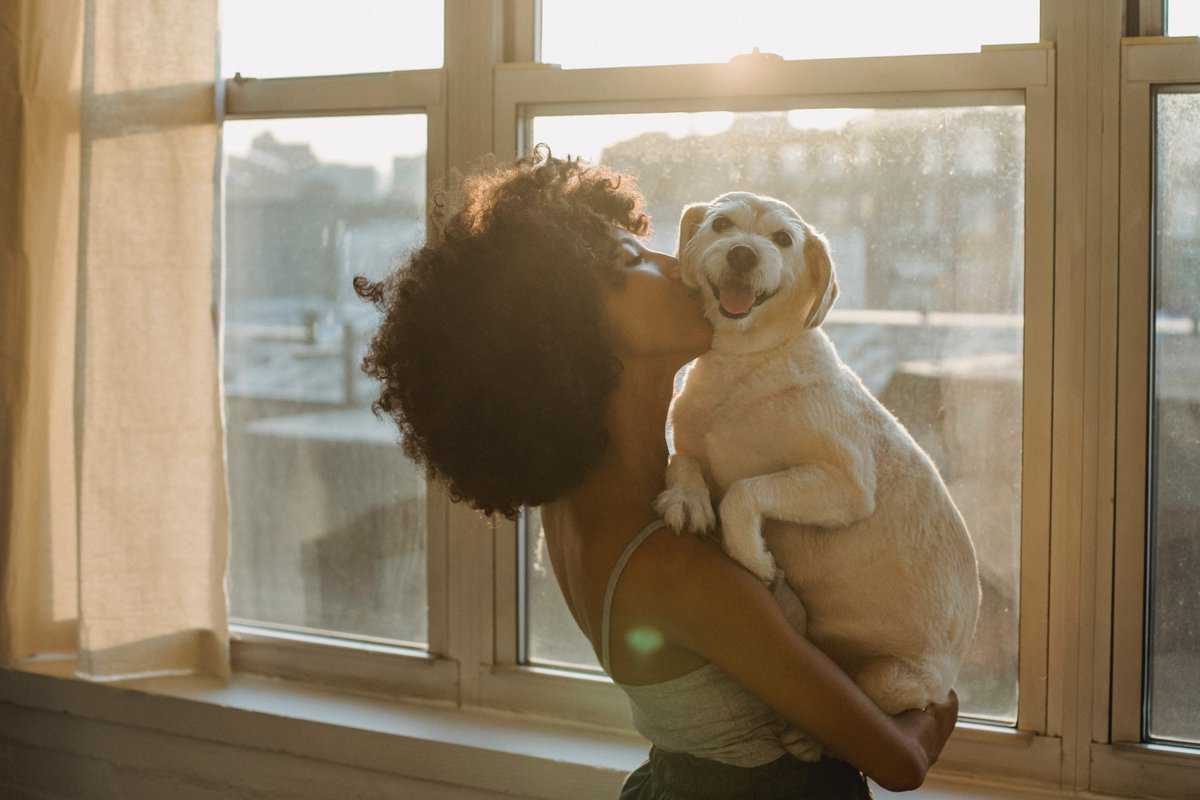 The Personal Year 3 defines a period of 快乐, experimentation 和 fearless living.
During this time, you may experience bursts of creative energy. You have a powerful desire to express yourself. Failing to do so may result in growth paralysis. So, find a way to express your fresh ideas, to present them to the world in your own unique way.
You may soon discover that 艺术 fascinates you more than usual. Not just the mere observation and admiration of art, of course, but the process of creating art yourself, releasing your creative energies with the purpose of experiencing fulfillment and joy.
The Personal Year 3 provides clarity when it comes to understanding emotions.
You feel more alive than ever. You feel ready for something new and exciting. As such, now's the time to take a leap of faith. Leave the safety of the comfort zone. Start living your life to the fullest, letting your inner colors come to light so as to radiate 积极性.
The Personal Year 3 capitalizes on your social interactions 和 关系 from the last chapter. More often than not, you find yourself to be the life of the party, providing an endless source of joy, coloring your surroundings and uplifting everyone's moods.
Focus on enjoying yourself and the freedom bestowed upon you.
Although this number introduces new challenges, let's take a moment to review its blessings first. Let's examine what kind of positive energies you have at your disposal during this exciting chapter of life, so that you may use them to your advantage.
Blessings of the Personal Year 3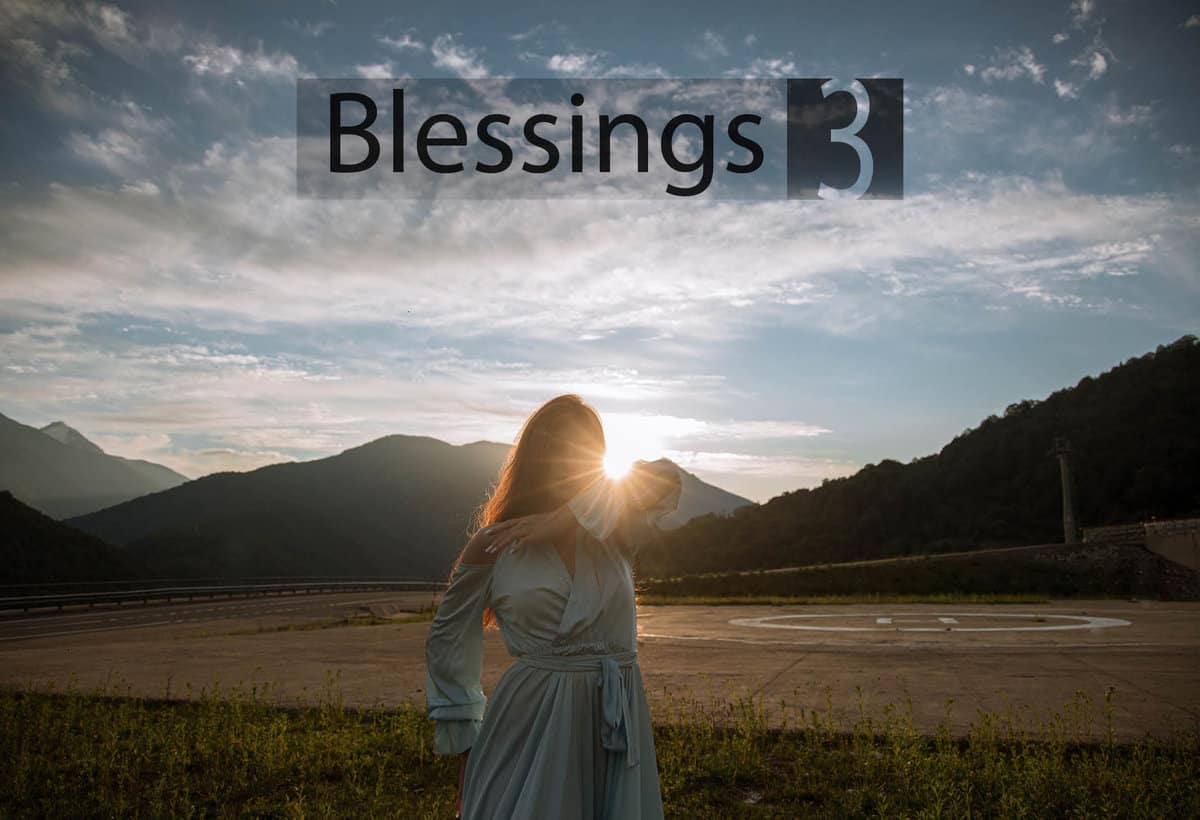 During this part of your Year Cycle, you have access to the following positive energies:
You enjoy a deeper understanding of 艺术 and its fine sublimity.
You're less likely to take things seriously. Go out there and have fun.
Change no longer frightens you. In fact, you desire it more than ever.
You relish in the fact that your joyful presence feels welcome wherever you go.
You feel ready to spice things up and go for adventures.
Listen to your heart. The Personal Year 3 describes a period of saying 是 to life. So, what exactly does that mean? It means ceasing to postpone all those crazy ideas inside your mind. It means getting yourself out there in the world and making a name for yourself.
It's fine to plan and stay organized, but this number is all about 做. Give 自发 a chance. Let yourself feel the joys of danger, excitement and thrill. Follow your heart wherever it beckons you and start growing beyond any self-imposed boundaries.
Numerology indicates that the Personal Year 3 offers additional boons, such as:
你的 communication skills feel sharper and improved.
There's a spark of genius that you can tap into during this time.
You find it easier to deal with the past and to embrace the 此刻.
Nevertheless, the Personal Year 3, as with any period in the Year Cycle, presents its own challenges, too. Fail to overcome them and you may very well lose out on all these beautiful blessings that your number provides. So, let's review the obstacles, as well.
Challenges of the Personal Year 3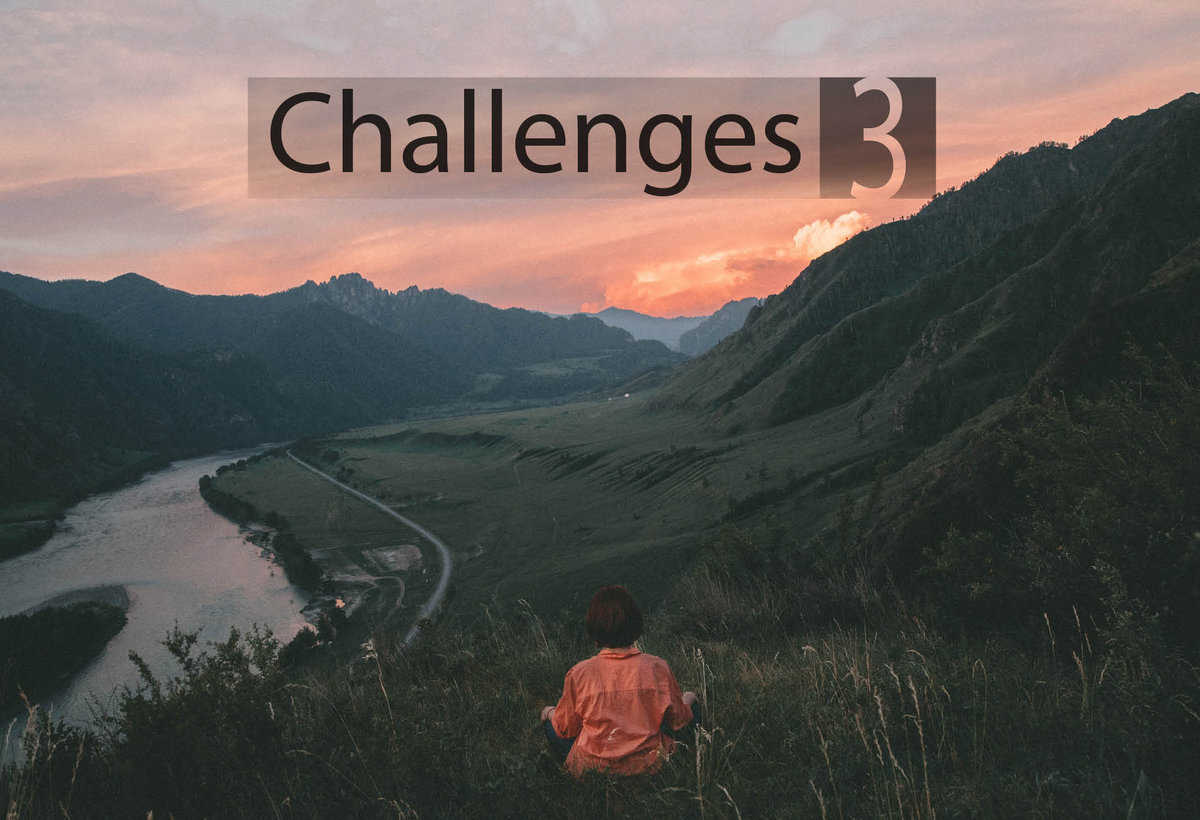 The Personal Year 3 confronts you with interesting challenges and dilemmas, namely:
Staying idle wastes your energies and demotivates you in a crippling way.
You're vulnerable to scattering your energies.
Failing to control your emotions may impede your journey altogether.
Wanting to do everything at once may leave you feeling overwhelmed.
You may experience the fear of missing out.
处于 proactive in life but remaining balanced poses the most difficult challenge in this chapter of your story. To overcome it, you have to learn to listen to your intuition. When it tells you to slow down and reassess, listen. You don't have to do everything 现在.
Yet, it's crucial that you don't come to a complete halt. Keep moving. Keep experimenting and trying out different things. In this part of your Year Cycle, you will discover your hobbies, passions, dreams and desires, but only if you overcome the challenges that await.
The Personal Year 3 presents additional trials and tribulations, as well:
You may easily become envious of those who have more.
Learning to spice up your 例行公事 和 habits makes or breaks this journey.
Preserve your mental focus 和 清晰度, or risk losing your way entirely.
Now that you have acquainted yourself with all the blessings and the challenges of your number, let's take a look at what the Personal Year 3 has in store for your love life.
The Personal Year 3: Love & Relationships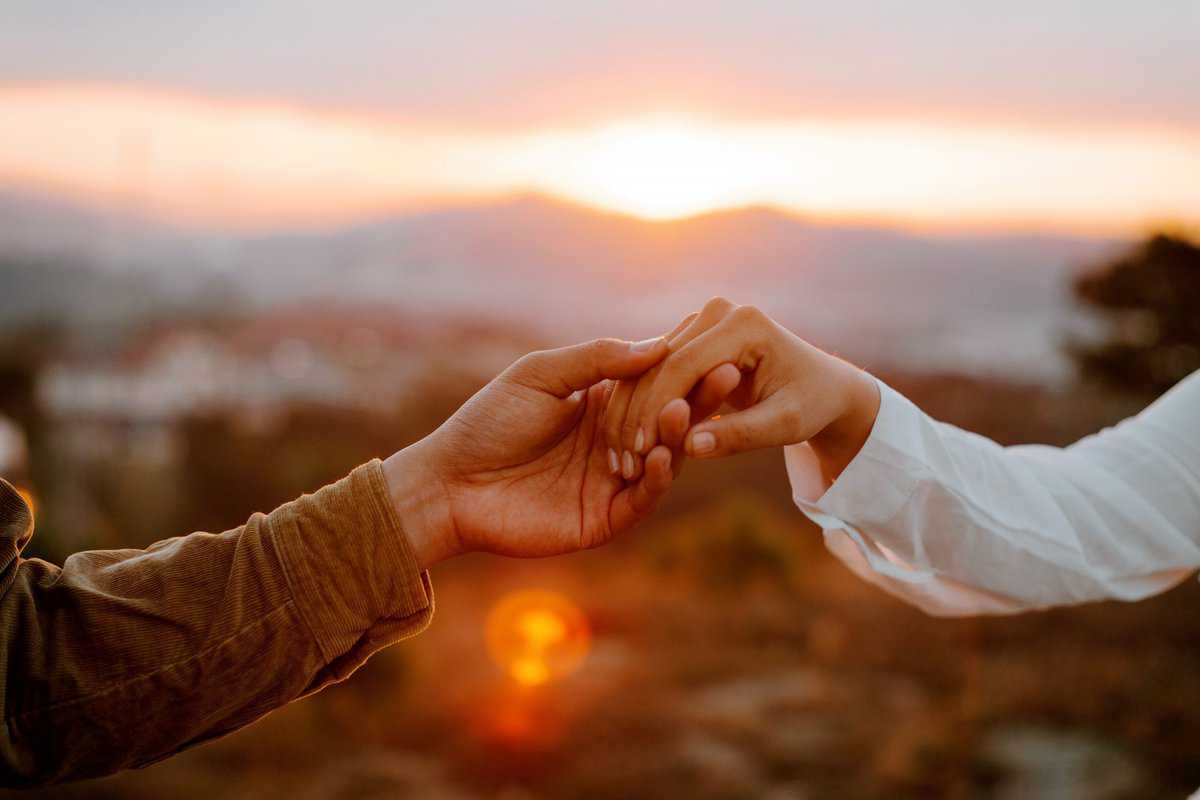 The Personal Year 3 grows your 关系 and opens your mind to new 冒险.
So, in whatever stage of life you find yourself in, things are likely to get very exciting. If you're single, then it's time to open your heart. It's time to start saying 是. Get out there and start meeting new people. Your enthralling aura allows for deeper bonds to form.
If you're not committed to anyone, the Personal Year 3 predicts an experimentation phase. You may find yourself drawing interest from all directions and entertaining multiple potential partners at once. Just make sure that you state your intentions clearly.
You don't want anyone getting hurt in your desire to live life to the fullest.
However, it's also important that you don't overindulge in pleasure, and to treat your experimentation phase as a journey of 自我发现 as you endeavor to discover what your heart truly longs for. It's all about staying focused on what 真的 事务。
This number gives you a sort of divine protection against heartache 和 failure. Even if you do get rejected, it doesn't seriously impact you. In the Personal Year 3, you learn to value yourself above all. You learn to value time and persistence equally as much.
So, there's much to look forward to. This chapter of your life involves a great deal of 恋情, so keep your heart open. You may, in fact, meet your 知心朋友. Regardless, one thing remains certain. You will experience love in many new, exciting and thrilling ways.
The Personal Year 3: Money & Career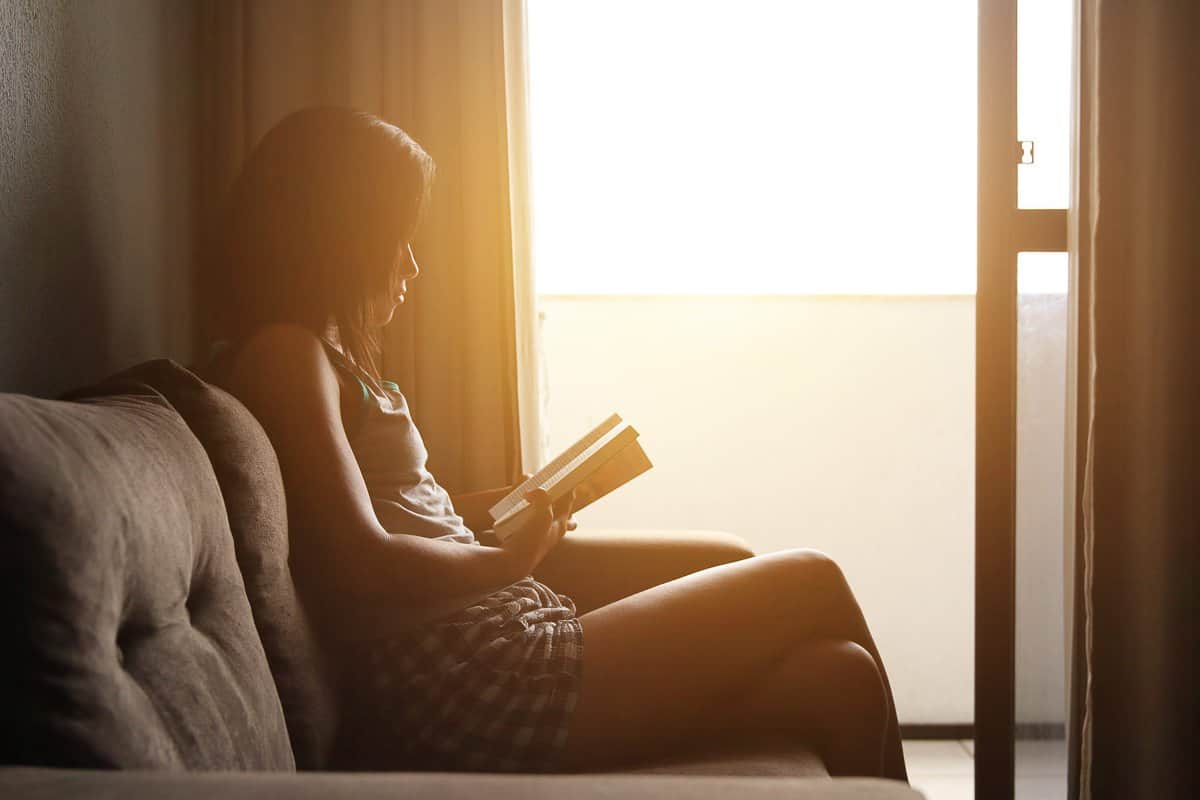 Numerology implies that the Personal Year 3 favors following your heart's desires.
As such, you may want to consider a career that doesn't necessarily pay much, but provides stability in the sense that you can devote yourself to your deepest and most intimate passions. When you make that decision, you experience no regrets later on.
Since this number boosts your 创作, art may suit you well.
During this period, try your hand at creating artworks and expressing yourself in creative ways. From painting to music, there's many ways to apply your imagination and to transform your ideas into realities. So, don't be afraid to do a little experimenting.
Any job, in fact, that activates your creative abilities may fit you excellently during the Personal Year 3. That's why it's important to know what kind of energies every number brings, so that you can plan your life accordingly and opt for a suitable career path.
You don't have to look far. Due to your positive energies, opportunities come to you. You just have to trust your intuition, listen to your heart and simply say 是 to what feels right.
The Personal Year 3 predicts many projects, work opportunities and creative endeavors, in such great abundance that you may feel compelled to try everything all at once. Stay balanced, instead. Mind the risks. Choose your path wisely and rationally.
Above all, don't be afraid of what feels 不熟悉的. Take a chance. It will pay off.
The Personal Year 3: Health & Well-being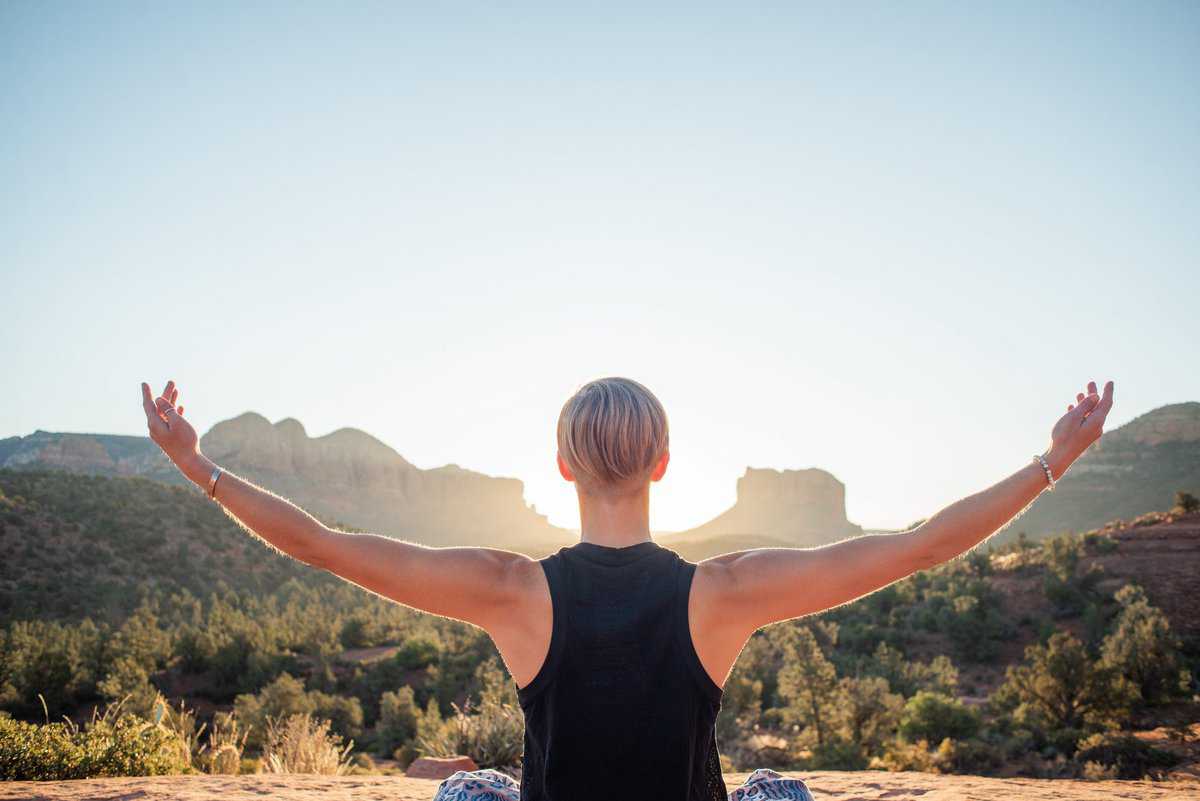 In the Personal Year 3, taking care of your mental health takes priority.
Numerology predicts physical wellness and a strong life energy. However, every energy needs its release. So, don't neglect your physical well-being. Stay active, instead. Do frequent workouts and keep yourself physically fit. Capitalize on the energies you have.
You face the challenge of understanding your emotions and expressing them. Overcoming this challenge helps you secure mental clarity throughout the year. As such, you have to tap into this number's energy and unleash the full potential of your emotional side.
与 时间 和 耐心, you learn to master your emotions. You may experience many ups and downs until then, but in the end it's your perseverance that makes a difference and stops these emotional oscillations. That's when you truly start controlling your life.
The Personal Year 3 encourages you to go with the flow.
Trust that everything will work out all right. Don't stress the small stuff. In this year, focus on living life to the fullest, taking risks and chances by listening to your heart. Discover how great it feels to be truly free in order to enjoy long and lasting mental stability.
总结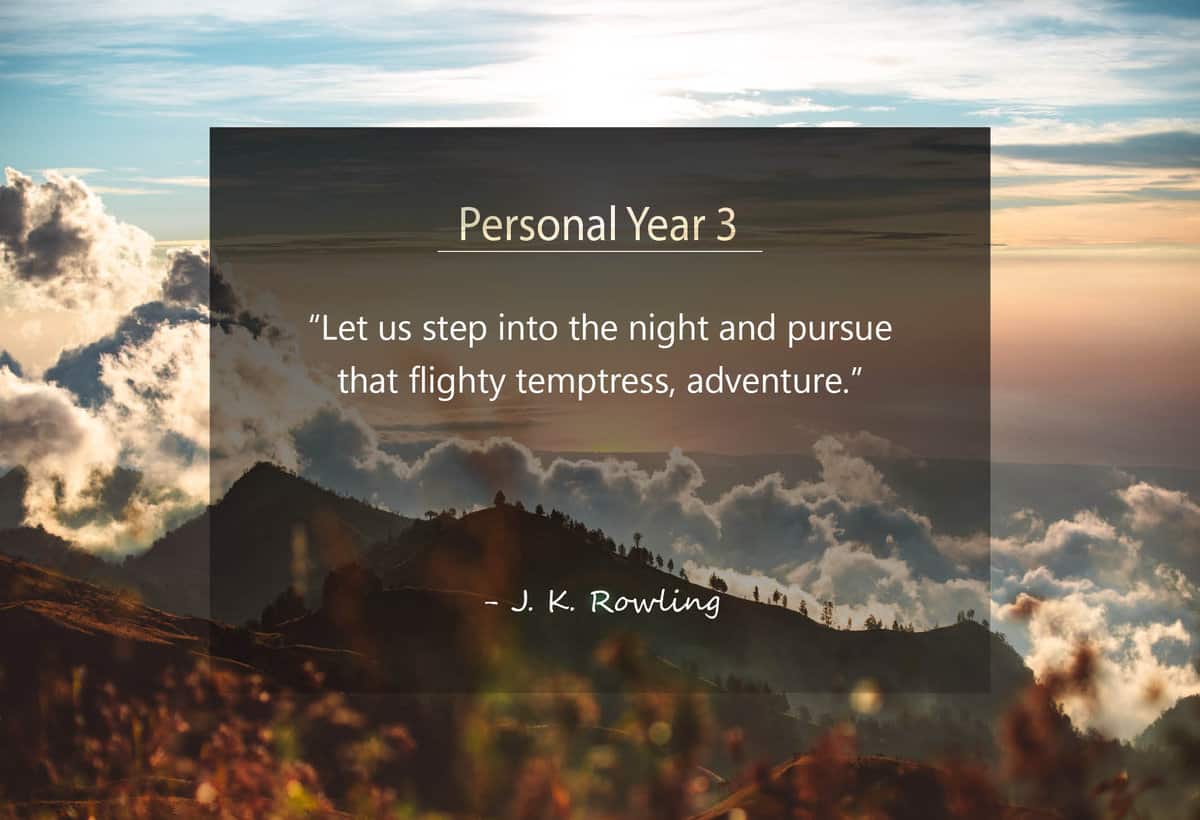 The Personal Year 3 resembles a time period in which your creative energies deepen.
Negativity leaves you completely, as well. The world appears brighter, more colorful, thriving with opportunities, adventures, and it's calling to you. Embracing 冒险 和 自发 in this part of your life leads to exciting and favorable outcomes.
"Let us step into the night and pursue that flighty temptress, adventure."

– J. K. Rowling
Yet, that's not all that this number brings. There's so much more 潜在的 to tap into.
In the Personal Year 3, you will rediscover your passion for the arts.
In fact, you have to rediscover it, because the challenges of this period can only be conquered by learning how to express yourself without fearing judgement or opinion.
With the knowledge numerology provides, embrace the journey ahead. Let this year be marked by your willingness to erase any self-imposed limitations, to exceed your own expectations, to be social, to be free, artistic, and to truly live life to the fullest.